The Multi Pro Plus vitamin and mineral complex is produced by the American company Scitec Nutrition. A distinctive feature of the supplement is that inside there is a packet of several Mega Daily capsules. It is an innovative multivitamin formula made up of twenty-five different ingredients.
The Multi Pro Plus complex is characterized by a high dosage of vitamin B and ascorbic acid, selenium, zinc and magnesium. The sports supplement is recommended for athletes during the cold season. It allows you to protect the body from seasonal colds, resist viruses, and increase endurance in training.
Zinc is one of the most important elements for a man's body. It not only regulates metabolism, but also increases testosterone production. Magnesium is essential for the proper functioning of the nervous system and heart. It promotes the production of proteins needed to build muscle mass. The beneficial fatty acids Omega-3 contained in the Multi Pro Plus complex help to improve the relief and have a positive effect on the cardiovascular system.
Structure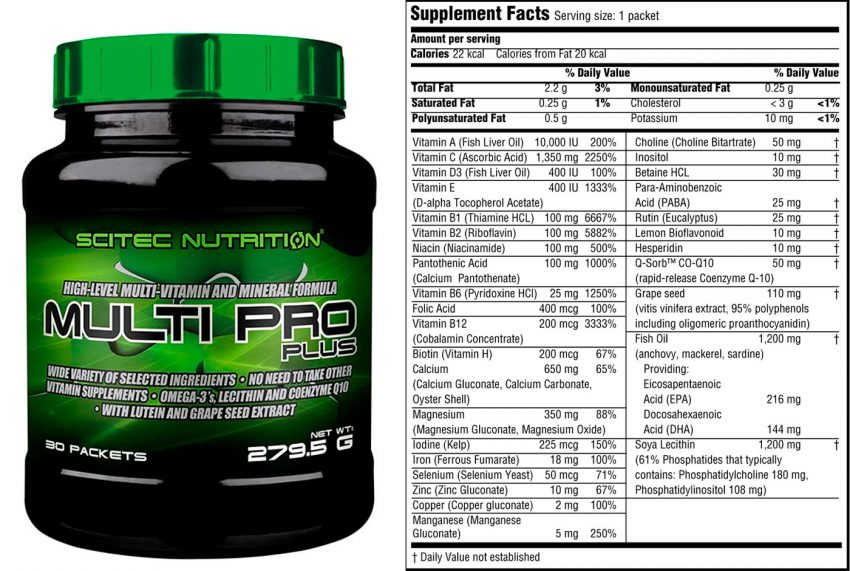 One serving of the multivitamin supplement makes up one bag, inside of which are dragees with valuable substances. The calorie content is 22 kilocalories, which include:
fats – 2.2 g;
fish oil and soy lecithin – 1.2 g each
The full composition of the vitamin and mineral complex is shown in the picture. There are no dyes or synthetic flavors in the preparation. Nothing superfluous to be unhelpful to the exercising athlete.
How to Take Multi Pro Plus from Scitec Nutrition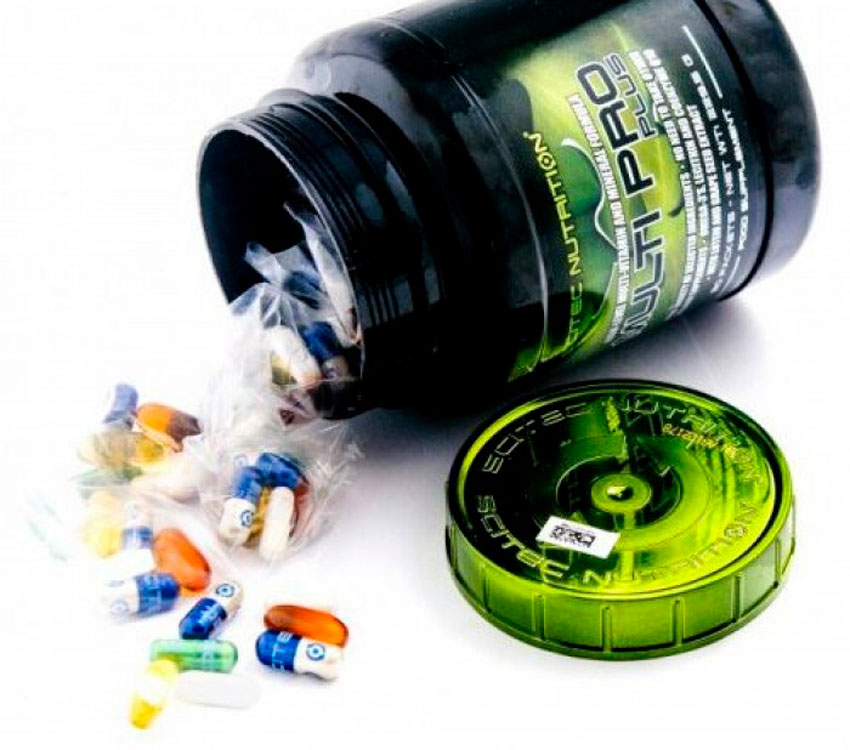 The manufacturer's experts advise taking the supplement as a dietary supplement, that is, replacing one meal with a sachet. One package contains thirty bags. One can is enough for a month. Capsules from the package are taken at a time and washed down with a glass of clean water.
The multivitamin supplement can be taken at the same time as other sports complexes. Scitec Nutrition recommends combining it with the following drugs:
pre-workout complexes for explosive workouts, for example, Hot Blood;
high-calorie gainers that are recommended for athletes with an ectomorphic physique, for example, Jumbo;
quality amino acid complexes produced by Scitec Nutrition, which help to restore and suppress catabolic processes, increase performance, while maintaining lean body mass during the drying period.
The Multi Pro Plus complex is taken not only with additives from the same manufacturer, but also with analogues from other companies. It cannot be used simultaneously with other vitamins and minerals. This can lead to overdose of any element and side effects.
Testimonials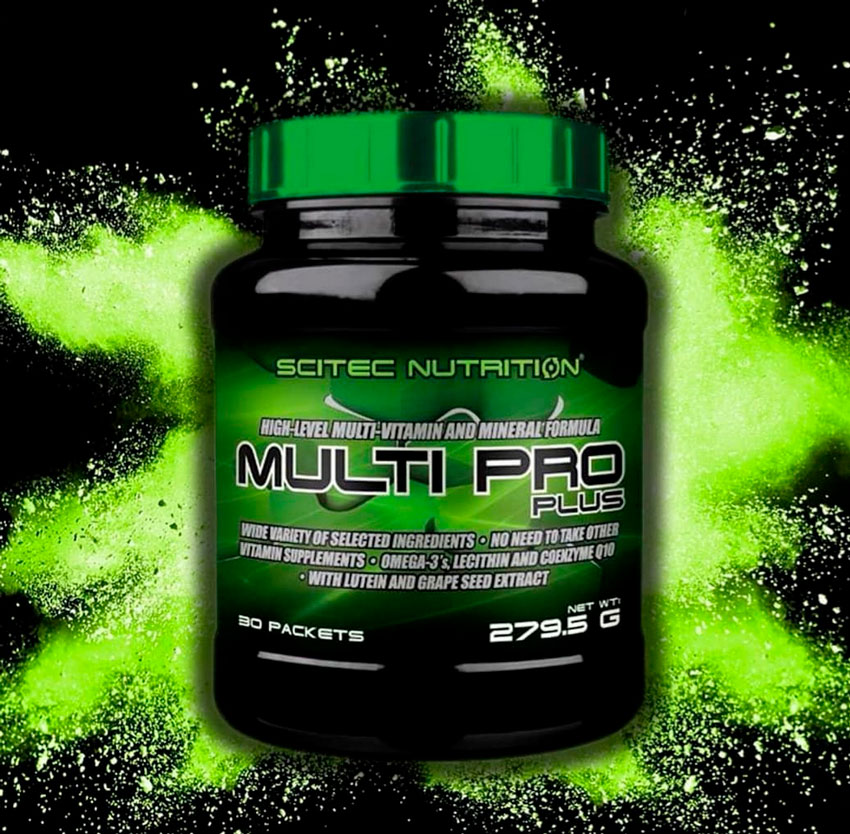 The Scitec Nutrition multivitamin complex is less popular than other analogues from well-known manufacturers, but there are no less positive reviews about it. Athletes note the absence of unnecessary and unnecessary components, high efficiency and affordable cost.
Many athletes note an improvement in the quality of sleep, as well as in recovery processes after training, and energy charge. There are also negative reviews. Some athletes write about allergic reactions. This is not due to the complex itself, but to the characteristics of the organism.